Hendrix College President William M. Tsutsui has appointed Kesha Wingfield Baoua, the Associate Dean of Students and Director of the Office of Student Rights and Responsibilities, to serve as the College's interim Chief Diversity Officer and Vice President for Diversity and Inclusion. Baoua will serve in this capacity while the College conducts a national search for the successor to Dr. Dionne Jackson, who departed earlier in May to take the helm of AR Kids Read.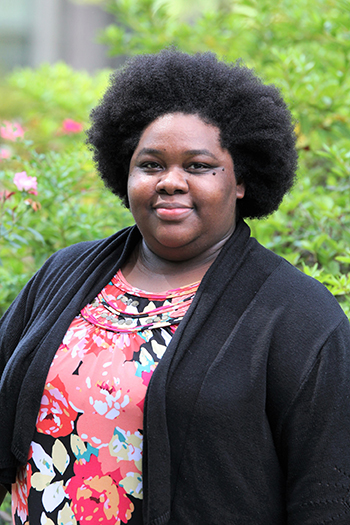 Baoua has served Hendrix as Associate Dean of Students and Director of Student Rights and Responsibilities for seven years, and before moving into that role, she spent six years heading the College's Office of Multicultural and International Student Services, working with international and exchange students, students from diverse backgrounds, multicultural student organizations, and diversity programs. Her previous work experience includes working at Bethlehem House in Conway as a case manager.
"Both of Kesha's positions here at Hendrix have dealt with the importance of upholding the rights of students and promoting a safe community, which will serve her well in her work for diversity and inclusion on campus," said Hendrix President William M. Tsutsui. "The College will benefit from her willingness to use her experience and gifts in this interim role."
Baoua has been active in numerous diversity-related activities on campus, including initiating the Multicultural Leadership Retreat for student organization leaders; administering a community-wide Multicultural Expo; advising several multicultural student organizations, including helping to organize the Muslim Student Association; leading a student committee that heard concerns related to diversity and provided solutions; and conducting diversity training for student leaders.
"I've been fortunate to work with diversity initiatives throughout my time at Hendrix, so I'm thrilled to be able to return to this work full-time for this interim period," Baoua said. "I'm even more excited to lead the new 1stGen@HDX program. As a first-generation college student who benefitted from the Upward Bound program in high school, and from having an amazing college mentor, I know firsthand the positive impact of these initiatives. I look forward to continuing to build relationships and collaborations with students and their families, faculty, staff, and community partners."
A native of Gum Springs, near Arkadelphia, Baoua graduated summa cum laude from the University of Central Arkansas' Honors College with a bachelor's degree in sociology, and continued her studies there to obtain a Master of Science degree in training systems. She and her husband, Boukary, have a three-year-old son.