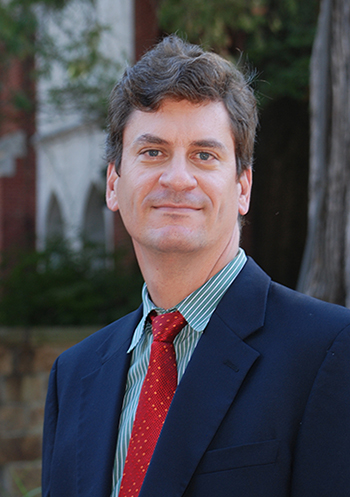 Hendrix College Associate Professor of Politics Dr. Peter Gess has received an Educational Network for Active Civic Transformation (ENACT) Faculty Fellowship. ENACT, a program of the International Center for Ethics, Justice and Public Life at Brandeis University, engages undergraduates across the United States in state-level legislative change. Twenty-nine colleges and universities across the United States currently offer ENACT courses.

As an ENACT Fellow, Gess has made the commitment to teach an ENACT course at least twice in the next four academic years. The ENACT course Hendrix College offers is Arkansas Politics, which is scheduled to coincide with the regular session of the Arkansas Legislature in 2021 and 2023.

Gess, who also serves as associate provost for engaged learning and director of international programs for the College, says ENACT presents an experience very much in keeping with the Hendrix Odyssey Program.

"Beyond simply learning about Arkansas politics and the legislative process, students have the opportunity to experience all things state legislature," he said. "They research and develop policy, advocate and lobby for it, and network with various organizations doing policy work in the state. I think it is very important today—when it is easy to be cynical about the state of affairs at the national level—for students to see that they can make a difference. It's great hands-on experience for those interested in careers in policymaking or politics, of course, but also a great experience for anyone wanting to become more engaged as a citizen."

Gess and other ENACT Fellows from across the U.S. will attend a workshop this summer at Brandeis University to prepare for engaging their students in seeking opportunities for legislative change at the state level.

"I am really looking forward to learning from others in my cohort, workshopping ideas with them, offering ideas and support, and learning from the vast experience of the network," Gess said. "Ultimately, this will help me become a better teacher in the classroom, and more importantly, help our students apply classroom knowledge to real opportunities to affect governance in the state. There is a real need for young people in Arkansas to commit to making a difference."

Gess already has experience working with members of the executive branch because of the time he spends training state government officials through the Arkansas Public Administration Consortium. The ENACT Fellowship means he will work more closely with the legislative branch to provide engaged learning experiences for Hendrix students.

"Along with coursework, students will undertake a practicum (internship) to work with an agency or organization advocating for policy changes. The support I get from the ENACT network will help me offer the best possible course-practicum experience for our students," he said.
About Hendrix College

A private liberal arts college in Conway, Arkansas, Hendrix College consistently earns recognition as one of the country's leading liberal arts institutions, and is featured in Colleges That Change Lives: 40 Schools That Will Change the Way You Think About Colleges. Its academic quality and rigor, innovation, and value have established Hendrix as a fixture in numerous college guides, lists, and rankings. Founded in 1876, Hendrix has been affiliated with the United Methodist Church since 1884. To learn more, visit www.hendrix.edu.