Tim Lepczyk recently joined Hendrix College as Fellow in Digital Humanities and Pedagogy.
In this two-year academic appointment, underwritten by a grant from the Andrew W. Mellon Foundation, Lepczyk will serve as a catalyst for faculty innovation by bridging learning resources, curricula, and scholarly opportunity with appropriate academic technologies. Among his responsibilities, he will plan, promote, and implement strategies to encourage faculty discourse about pedagogy, e-learning tools, and the integration of digital media into teaching and scholarship.
"Being in a new position for Hendrix, my first goal is to listen and to see what services I can best provide for our faculty,"Lepczyk said.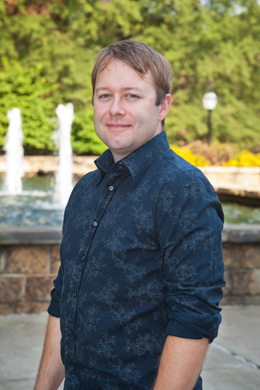 Prior to joining the Hendrix faculty, Lepczyk developed and co-led the digital repository and digital curation efforts at Washington University in St. Louis, Mo.
Lepczyk received his bachelor's degree in Japanese studies and English from Hope College in 2001. He completed his master's degree in English from the University of Nebraska-Lincoln in 2004 and a master's degree in information services from the University of Tennessee in 2006.
In his first week at Hendrix, Lepczyk has already collaborated with religious studies professor Dr. Jay McDaniel on courses that Hendrix will offer in the fall, using telepresence technology, with students in China. Two classrooms at Hendrix will be equipped with telepresence technology before the start of the 2012-2013 academic year.
"We're excited to have Tim on campus," said David J. Hinson, executive vice president and chief information officer. "His energy, curiosity, and enthusiasm for learning and technology will allow Hendrix to promote best practices in digital pedagogy, and in creating an environment where learning new technologies happens in a collegial and highly-stimulating setting."
Founded in 1876, Hendrix College is a national leader in engaged liberal arts and sciences education. Hendrix was named the country's #1 "Up and Coming" liberal arts college for the third consecutive year by U.S. News and World Report. Hendrix is featured in the 2011 edition of the Princeton Review as one of the country's best 376 colleges and is listed in the 2012 edition of the Fiske Guide to Colleges as one of 25 "Best Buy" private colleges included. Hendrix has been affiliated with the United Methodist Church since 1884. For more information, visit www.hendrix.edu.