Hendrix College's Model UN team was recognized with a "Best Overall Delegation" Award at this year's American Model United Nations (AMUN) Conference, held November 17-20 in Chicago. The students represented Italy.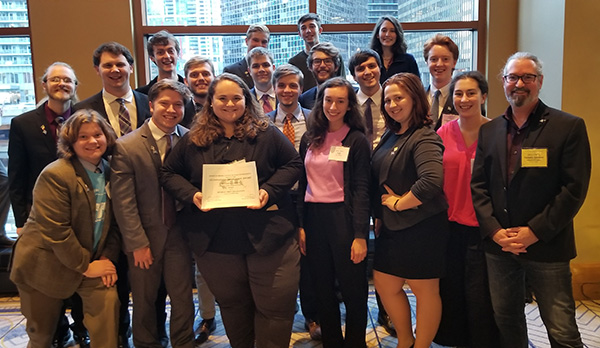 Additionally, five Hendrix students won Outstanding Delegation Awards for their work in their committee simulations:
Cordell Campbell '19 and Charlie McMahon '21 for the General Assembly Plenary
Emmett Hill '19 for the United Nations Environmental Assembly
Sara Hoopchuk '20 and Stephen Clark '20 for the World Health Organization Executive Board.
Other student participants and their simulations included:
Adam Williams '19 and Henry Edwards '20: General Assembly First Committee – Disarmament & International Security
Graydon Carter '19 and Aleck Bratt '20: General Assembly Second Committee – Economic and Financial Affairs
Bailey Brya '20 and Avery Waid '21: General Assembly Third Committee – Social, Cultural and Humanitarian Affairs
Elliot Anderson '20 and Taylor Watkins '22: General Assembly Sixth Committee – International Law
Claire Fleming '20 and Olivia Kelley '21: Committee on Development Policy Expert Group
Alex Tiller '19: Justice on the International Court of Justice
Max Hancock '19: Commissioner on the 2005 Historical Commission of Inquiry
Meredith Warren '19 served as the delegation's Permanent Representative, in charge of strategy and logistics for the delegation as a whole at AMUN.
More than 80 colleges and universities sent 1,265 students to represent 125 UN Member States and Observers at AMUN 2018. Since 2008, Hendrix Model UN teams have participated in one Model UN conference each year, and have racked up an impressive 34 awards during that time.
"This was the tenth anniversary of Hendrix's course-based Model UN program," said Dr. Daniel Whelan, professor of politics and international relations at Hendrix. "Once again, all of our students were very well prepared for the 2018 AMUN Conference, especially when it came to the rules of procedure. They also did outstanding work caucusing and in resolution and report drafting. That level of preparation was instrumental in our winning one of the six Best Overall Delegation awards, our first since 2015. We also had a number of very strong partnerships on the various simulations, most notably on the GA Plenary, where we won our first Outstanding Delegation award in that simulation since 2009. Hendrix should be very proud of this year's team."