Hendrix College President and Professor of History Bill Tsutsui will retire in December and be on sabbatical this spring. The Hendrix Board of Trustees accepted Tsutsui's retirement today and elected Senior Executive Vice President W. Ellis Arnold III the 12th President of Hendrix College.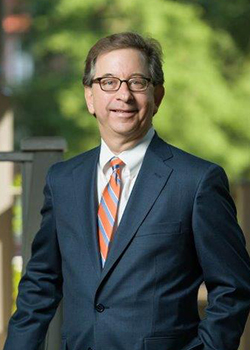 Arnold will begin his tenure as the President of Hendrix College on December 31.
"I am honored and humbled for the opportunity to play a role in advancing the College as a national leader in engaged learning and the liberal arts," said Arnold. "It is a privilege to work with the Hendrix community and alongside our dedicated faculty and staff and talented students. Together, we will lead the College confidently into the next decade, addressing our challenges, and seizing our opportunities with determination and optimism."
A 1979 Hendrix graduate, Arnold received his juris doctorate from the University of Arkansas at Little Rock William H. Bowen School of Law and practiced law in Little Rock from 1982 to 1990. In 1990, he was approached by then-Hendrix President Dr. Joe B. Hatcher to serve as Vice President for Development and College Relations and lead the College's church relations, communications, fundraising, and marketing, in addition to serving as General Counsel.
In November 1996, Arnold was named President of Lambuth University in Jackson, Tenn., and later served as President and Head of School of Pulaski Academy in Little Rock, Ark., from 2004 until 2008, when he returned to Hendrix. He served the College as Acting President on two occasions, in addition to his current role as Senior Executive Vice President, Dean of Advancement, and General Counsel. Under his leadership, the College's current campaign has surpassed historic fundraising levels.
"Hendrix is very fortunate to have strong campus leaders who are committed to our students and to the College's success. Ellis is a proven leader, and we are confident in his ability to lead a seamless transition and develop a comprehensive strategy to guide Hendrix moving forward," said Albert Braunfisch, Chair of the Hendrix Board of Trustees. "Most importantly, we know that Ellis will inspire the Hendrix community and even further advance our well-earned reputation and historic traditions."
"The Board is grateful to Bill for his leadership and the many milestones accomplished under the College's 2015-2020 Strategic Plan," said Braunfisch. "These accomplishments will further distinguish Hendrix among the country's leading liberal arts colleges in the years to come."
During Tsutsui's tenure, Hendrix was re-accredited by the Higher Learning Commission for 10 years; significantly increased access and affordability, as well as student diversity; launched the Hendrix Aspire and Murphy Scholars Programs, as well as innovative career preparation and campus well-being programs; completed the Dawkins Welcome Center; and will complete the Miller Creative Quad and Windgate Museum of Art in 2019-2020.
Before leading Hendrix, Tsutsui served as dean of Dedman College of Humanities and Sciences at Southern Methodist University from 2010 to 2014 and taught for 17 years at the University of Kansas.
"I am grateful to the Board of Trustees for the opportunity to serve this remarkable institution and special community," said Tsutsui. "It has been an honor and a privilege to work alongside everyone, from the faculty members who challenge and inspire our students to the folks who keep our students fed, safe, and well-prepared for life after Hendrix.
"While we live in one of the most intensely competitive eras in American higher education, the broad, rigorous, hands-on liberal arts education we offer at Hendrix has never been more critical," Tsutsui said. "I look forward to seeing its continued progress and, because of those who are deeply passionate about and fiercely loyal to Hendrix, all can be confident in its long-term success."
About Hendrix College
A private liberal arts college in Conway, Arkansas, Hendrix College consistently earns recognition as one of the country's leading liberal arts institutions, and is featured in Colleges That Change Lives: 40 Schools That Will Change the Way You Think About Colleges. Its academic quality and rigor, innovation, and value have established Hendrix as a fixture in numerous college guides, lists, and rankings. Founded in 1876, Hendrix has been affiliated with the United Methodist Church since 1884. To learn more, visit www.hendrix.edu.