Hendrix College's Model UN team earned one of five "Overall Best Delegation" awards while representing Austria at this year's American Model United Nations (AMUN) Conference, held Nov. 23-26 in Chicago. The team brought home the same honor last year, when they represented Italy. In addition to this year's overall win, seven Hendrix students received individual Outstanding Delegation Awards for their work in committee simulations:
Matthew Haley '21 and Grace Wiggins '21 for the General Assembly Third Committee;
Olivia Kelley '21 and Anthony Bennett '20 for the World Conference on Youth;
Rachel Allen '22 and Charlie McMahon '21 for the Commission on Crime Prevention and Criminal Justice;
Sara Hoopchuk '20 for the Historical Commission of Inquiry on Assassinations.
Other student participants and their roles included:
Billy Hayes '20 and Austin Jared '20 (General Assembly Plenary simulation);
Kailey Miller '21 and Violet Pirtle '20 (General Assembly First Committee – Disarmament & International Security simulation);
Rachel McGhee '22 and Jasmine Zandi '20 (General Assembly Second Committee – Economic and Financial Affairs simulation);
Elliot Anderson '20 (Justice on the International Court of Justice simulation);
Bailey Brya '20 served as the delegation's Permanent Representative, in charge of strategy and logistics for the delegation as a whole at AMUN.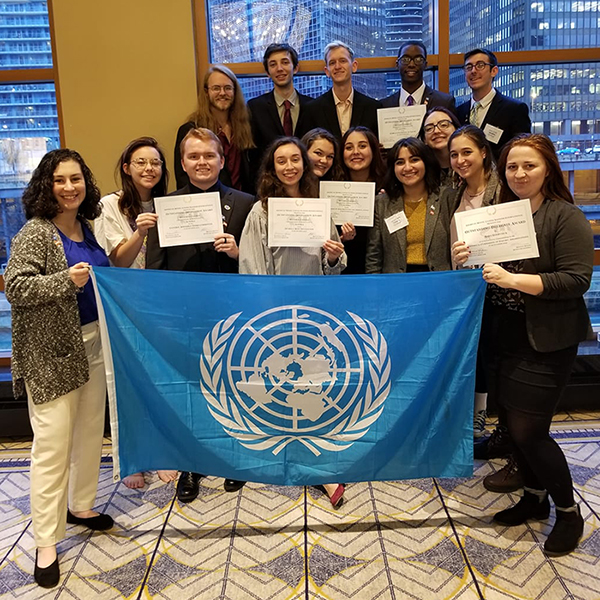 AMUN 2019 included 77 colleges and universities, which sent more than 1,100 students to represent 113 UN Member States and Observers.
"Our team this year was very well prepared for AMUN, especially with respect to their conference strategy and knowledge of AMUN's rules and procedures," said politics and international relations professor Dr. Daniel J. Whelan, who coached the team. "I was enormously pleased that for the first time since we formalized the program in 2008, we broke through the 'four award' barrier – and that we won an Overall Best Delegation award for the second year in a row. Hendrix should be very proud of these students' accomplishments."
Funds to support the Model UN team's preparation, competition, and travel were provided through Whelan's Dr. Brad P. Baltz and Rev. William B. Smith Odyssey Professorship. Each Odyssey Professorship carries an endowment to support faculty projects that create new engaged learning opportunities for students, such as internships, service projects, and undergraduate research, as well as professional development opportunities for the professors receiving them.