The Hendrix Players present Driving, a play by Hendrix alumnus Werner Trieschmann '86, as the Fall Family Weekend production for 2018. Performances are set for Friday, September 21 at 6 p.m. and Saturday, September 22 at 2 p.m. and 6 p.m., in Cabe Theatre on the Hendrix campus. Admission is free, and the public is invited. Seating will be first-come, first-served.
A family-friendly play that may hold particular interest for teens because of the lead character's age, Driving tackles the process of searching for the courage to do something you should be able to do — and succeeding. Nothing seems to be able to put the brakes on Ginny, an almost 16-year-old girl with straight A's and a bright future in front of her. However, learning how to drive appears to have stalled her on the side of the road. Nobody who knows her can figure out why she flunked her written driver's exam. Instead of getting behind the wheel, she pins her hopes on computer-driven cars controlled by robots with British accents and oh-so-friendly ride-sharing services. Instead of being independent and free, Ginny is driven around by her mom, who drives like a NASCAR racer with anger issues, or her goofy father, who pokes around slow as a turtle while waving at random gas stations. Then there is Ginny's odd dream of being chased by zombies, and her only chance for escape is to get behind the wheel. Will Ginny finally overcome her issues and start Driving?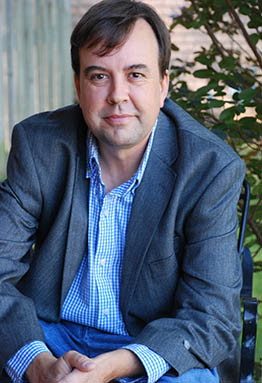 A writer, director, and theatre instructor, Werner Trieschmann wrote and directed the world premiere production of Mozart: Revealed and Schubert: Revealed with the Fort Wayne Philharmonic in Fort Wayne, Ind. His numerous plays have been produced across the United States, Canada and, most recently, England, Australia, and Japan. His plays, including Failing the Improv, You Have to Serve Somebody, and Disfarmer, have been staged by Moving Arts in Los Angeles, Ensemble Studio Theatre in New York City, The New Theatre in Boston, Mobtown Players in Baltimore, and Arkansas Repertory Theatre in Little Rock. His full-length comedy, You Have to Serve Somebody, is published by Dramatic Publishing, and his plays Failing the Improv and It's Not You, It's You are published by Playscripts. His monologues have appeared in The Best Women's Stage Monologues 1999 and Audition Arsenal for Women in Their 20s, published by Smith & Kraus. In 2013, Trieschmann received an Arkansas Arts Council Individual Artist Fellowship in Literary Arts: Playwriting. His play Lawn Dart won first prize in the Contemporary Arts Center of New Orleans New Play Competition. He was the first playwright to receive the Porter Prize, an Arkansas literary award recognizing outstanding achievement by an Arkansas writer. He holds an MFA in playwriting from Boston University. He is married and has two young boys, who are wilder than wild.
The cast and crew for Driving includes the following Hendrix students:
Maddy Shaddox '20 as Ginny
Dani Carney '21 as Mom (Carney also designed the poster for this production of Driving.)
Jackson Sims '21 as Dad/Proctor
Shaundraya Jackson '21 as Matilda/Cassandra
Alex Walter '22 as Cone/Reggie/Rider
Caroline Cangas '22 as Stage Manager
Raven Edens '22, Peter Grant '21, and Elliot Jackson '22 as Assistant Stage Managers/Zombies/Police.