Hendrix faculty member Dr. Kiril Kolev recently became a member of the Democratic Erosion Consortium, a collaboration of academics from more than 50 colleges and universities working to understand threats to democracy in the U.S. and abroad.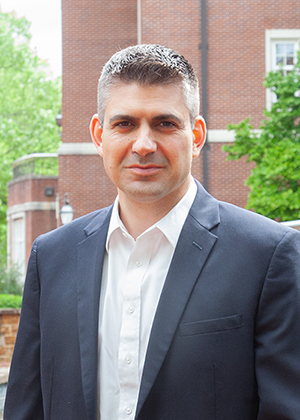 Led by Dr. Robert Blair at Brown University, the consortium seeks to promote a just and peaceful world through research, teaching, and public engagement. Its other members include more than 50 colleagues from the U.S. and abroad.
This fall, Kolev will teach his POLI 100 course, New Authoritarianism, using a consortium-wide syllabus. In addition, students in that class will participate in multiple engaged learning assignments:
Attending a campaign rally of their choice, then writing about the experience on a consortium-wide blog;
Engaging in assessment of the state of democracy in the U.S. at the beginning and the end of the semester, based on the readings and resources that the consortium provides;
Participating in the Democratic Erosion simulation, which immerses students in a fictional country undergoing challenges to its democratic model;
Using a state-of-the-art repository of data and narratives on the state of democracy around the world.
"Democratic erosion is a complex process that requires us to put the country we know best in comparative perspective," Kolev said. "What the consortium offers is a blueprint for understanding what the United States is experiencing currently by learning about the broader world and the social-scientific theory and evidence we use to track governance and accountability. Perhaps more importantly, it pushes students to engage with their immediate communities, as well as peers at other campuses that are learning the same material. It is an excellent approach to raising awareness and interactions both locally and globally — something that defines the socio-economic and political reality of our time."
Kolev, an associate professor who currently directs the Hendrix Odyssey Program and chairs the Hendrix College Department of Politics, joined the Hendrix faculty in 2011. After graduating from Whittier College with a degree in economics, he earned his Master of Science and Ph.D. in comparative politics at Duke University. He has taught courses on political economy, democratization, elections, research methods, and contemporary global issues. Between 2017 and 2019, he held the James and Emily Bost Odyssey Professorship, which funded his recent research on election quality, electoral systems, and political clientelism.
"In the classroom, I tell students that the best skill they can develop in college is being evidence-oriented and balanced 'translators' of academic knowledge for a broader audience," Kolev said. "We often get one or the other: opinions in the numerous echo chambers on ideological right and left; rigorous but inaccessible analysis in academic journals. I believe this course will strengthen my ability to teach how we can narrow the gap between the two."