Warrior Athletics has a new look, and Hendrix student-athletes, coaches, and fans got the first glimpse tonight in the Wellness and Athletics Center.
The new Warrior symbol, an orange-and-black helmet, replaces a barbarian-influenced illustration (think Mel Gibson's character in Braveheart), which debuted in 2007 and was later named Ivan in honor of the late coaching legend Ivan Grove. Grove served Hendrix Athletics from 1924 to 1962 and was instrumental in changing the Hendrix mascot from the Bulldogs to the Warriors. Ivan the Warrior filled a six-year void that began in 2001 when the College decided to eliminate the Native American imagery that had been used to promote Warrior athletics for a number of years.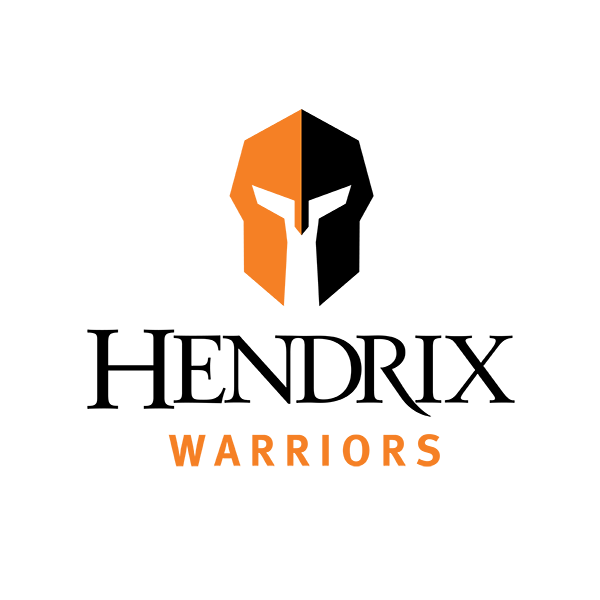 The new symbol is the most recent update to the Hendrix Athletics graphic identity system. In addition to the helmet, the "H" and "Shield" logos used by the Athletics Department were refreshed as well.
"Our logos hadn't been updated in more than a decade. Meanwhile, that decade was the most significant period of growth for Hendrix athletics," said Amy Weaver, director of athletics and head softball coach for the College. "So, it was time for a new look, and our coaches and student-athletes are really excited."
A committee of coaches, student-athletes, alumni, faculty, and staff was formed a year ago to discuss options for a new symbol. The committee's goal was to help develop a new symbol to celebrate the competitive spirit of Warrior Athletics and the values of the College. After initial concepts by an outside firm, the symbol was finalized by the College's Marketing Communications Office.
"It's not an easy process to change logos, but we had so much support from our community that we felt like we were making the right decision at the right time for us," said Weaver. "We are thrilled with the result. It's simple but strong, and it represents our whole program very well. I think our coaches will use it more often on gear and our current and future student-athletes will really embrace it."
Hendrix College President Bill Tsutsui agreed.
"A helmet is an iconic piece of a Warrior's armor in a variety of historical traditions," he said. "This new symbol honors our tradition as Warriors, builds on the success of our intercollegiate athletics program, and celebrates the diversity of today's Hendrix student-athlete."
The new symbol will make its public debut later this week.
The Athletics Department will celebrate the new Warriors symbol Friday, February 1, at the women's and men's basketball games in the Wellness and Athletics Center. There will be free promo items given to fans during the game.
Apparel and other products bearing the new Warriors symbol will soon be available at https://hendrixwarriorsshop.merchorders.com.