Hendrix College politics and international relations professor Dr. Kiril Kolev has been named director of the Hendrix Odyssey Program, the College's nationally recognized engaged learning initiative. He takes on this new role following Commencement in May.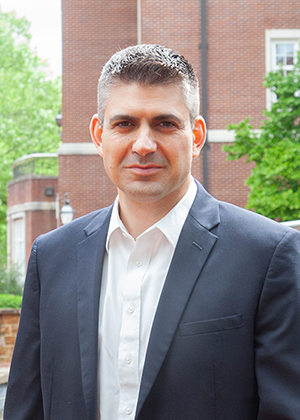 Launched in 2005, the Hendrix Odyssey Program requires students to complete at least three hands-on learning experiences chosen from six different project categories. Students and faculty may also apply for funding, on a competitive basis, for grants to support engaged learning projects, ranging from internships to travel to undergraduate research. Since its founding, the Hendrix Odyssey Program has awarded more than $4 million for student and faculty Odyssey projects.
Kolev, an associate professor who currently chairs the Hendrix College Department of Politics and International Relations, joined the Hendrix faculty in 2011. After graduating from Whittier College with a degree in economics, he earned his Master of Science and Ph.D. in comparative politics at Duke University. He has taught courses on political economy, democratization, elections, research methods, and contemporary global issues. Since 2017, he has held the James and Emily Bost Odyssey Professorship, which has funded his recent research on election quality, electoral systems, and political clientelism.
"Engaged learning is among the most exciting aspects of being a student, faculty, or staff member at Hendrix," Kolev said. "The Odyssey Program stimulates creativity, encourages reflection, and develops a long-lasting sense of ownership and exploration of one's academic and vocational pursuits. It facilitates the out-of-the-box thinking that today's society really needs. I am looking forward to doing my part to continue this collective tradition."
"Kiril brings much experience to his new role, including his service on the Committee for Engaged Learning, as well as advising and leading numerous Odyssey projects and an Odyssey Professorship," said Dr. Peter Gess, associate provost for engaged learning at Hendrix. "I look forward to working with him as we continue to grow and enhance our engaged learning opportunities for students."