Dr. Alex Vernon, professor of English at Hendrix College, has been selected to hold the M.E. and Ima Graves Peace Distinguished Professorship.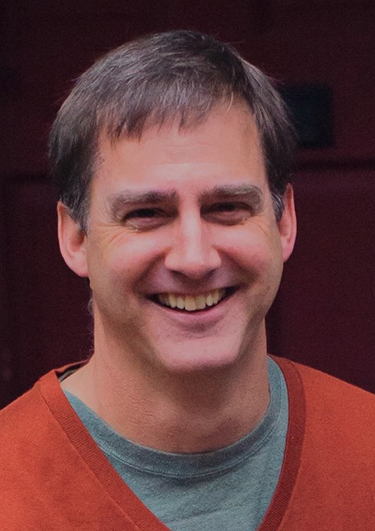 Vernon is the third faculty member to hold this professorship. Established in 1982, the M.E. and Ima Graves Peace Professorship was first held by English professor Dr. Ashby Bland Crowder from 1982 to 2008, then by politics professor Dr. W. Jay Barth '87 from 2008 to 2020.
Because of the current pandemic, Vernon learned of his newest honor over the phone rather than in person. Provost Terri Bonebright delivered the news on a Monday.
"When Terri told me, I broke into tears, because the Friday night before, my mother had died," Vernon said. "I told the provost how nice it was to get good news. It was a very short phone call because I had to compose myself."
Currently on a year-long research leave made possible by a National Endowment for the Humanities fellowship, Vernon will use some of the professorship's funding in connection with his NEH project: a biography of novelist Tim O'Brien, author of The Things They Carried. The professorship would support research-related travel (as the pandemic permits), along with obtaining primary source material and records, and participating in conferences.
All of which, ultimately, serve to enhance the educational experience for Hendrix students. Vernon recently taught a course on "Imagined Vietnam" and led an Oxford-style tutorial on O'Brien's writings for a small group of Murphy Scholars in Literature and Language.
"Every time I step into a classroom and talk about books and ideas with students, it keeps me engaged, keeps me on my toes. The teaching-and-scholarship dynamic is really alive for me," Vernon says. "The teaching really helps me think about my scholarship, and my scholarship enlivens my teaching in how I engage with students."
Vernon earned his M.A. and Ph.D. at the University of North Carolina. He teaches a variety of courses in 20th Century American literature and writing, such as American Literature and the Environment and the Faulkner-Wideman Seminar. He has used two previous Odyssey professorships to take student groups abroad to study and perform service work in Vietnam, and to study the Spanish Civil War. Off campus, Vernon directed a two-year NEH "Dialogues on the Experience of War" program for central Arkansas veterans as well as the general public.
Vernon takes joy in sharing the same professorship as his predecessors Crowder and Barth, citing their teaching, their scholarship, and their friendship.
"I think we have an immensely talented faculty. Every day I am in awe of something a colleague has done, whether that's inside or outside of the classroom," Vernon says. "I'm a good teacher, but at Hendrix I feel like an average teacher on my best days. I'm amazed by my colleagues. Many of them are eminently qualified for a distinguished professorship. My oldest daughter likes to say she can't imagine me being anything but a professor, and I tell her that I think she means a professor at Hendrix, because there's something about this place that just fits me and my career."
Colleagues who nominated Vernon for the professorship wrote about his work both inside and outside the classroom, including his published works—books, journal articles, and commentaries appearing in national news outlets; his pedagogical innovation and attention to engaging students in a communal learning experience; and his service in administrative and leadership roles on campus.
"Alex's service to Hendrix shows him to be committed to our college's values, reflected in our statement of purpose, which he played a prominent role in authoring. The first goal in that statement is to 'cultivate empathy.' I must note that Alex has been instrumental in that regard on campus," one colleague wrote. "Hendrix is often likened to a bubble, but Alex brings a rare perspective on this campus of someone who served in the military…. He may teach about war, but it is clear that his objective is to bring about peace."
The professorship honors M.E. Peace, who attended Hendrix during the 1913-1914 academic year and went on to become a successful business owner in Magnolia, Arkansas, and his wife Ima Graves Peace, a longtime friend of the College.
Vernon joins five continuing holders of distinguished professorships at Hendrix: Dr. Peg Falls-Corbitt, the Virginia A. McCormick Pittman Professor of Philosophy; Dr. John Krebs, the Willis H. Holmes Distinguished Professor of Music; Dr. Matt Moran, the Elbert L. Fausett Distinguished Professor of Biology; Dr. Lyle Rupert, the C. Louis and Charlotte Cabe Distinguished Professor of Economics and Business; and Dr. Lawrence Schmidt, the Harold and Lucy Cabe Distinguished Professor of Philosophy.