The Hendrix-Murphy Foundation Programs in Literature and Language recently celebrated 40 years on the Hendrix College campus, and that milestone year included the graduation of its first cohort of Murphy Scholars. The success of the Murphy Scholars Program has led to expanded staffing at the Hendrix-Murphy Foundation, with two Hendrix alumni taking on new roles in the foundation's work of enriching the study of literature and language at the nationally-ranked liberal arts college.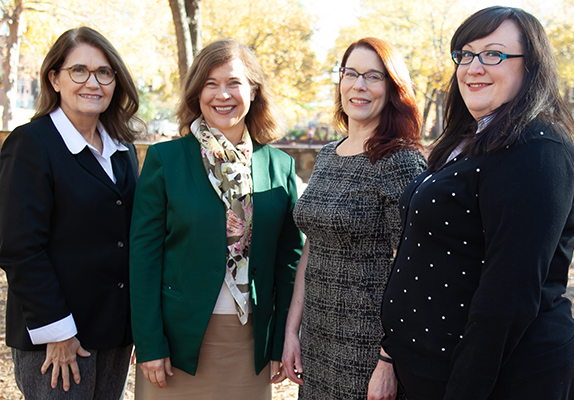 Sarah Engeler-Young '91, who served the Foundation for 13 years as its Office and Building Manager, has received a promotion to the new position of Assistant Director. Her work will focus on the proposal process—helping Murphy Scholars and other students develop proposals for literature and language projects, then administering and tracking the projects as they move toward completion. Given her liberal arts education as a sociology and theatre arts major at Hendrix, and her master's degree in theatre history and dramatic literature, Engeler-Young is well aligned with the literary mission of the Foundation.
Teri Schneider '99 has filled Engeler-Young's previous position of Office and Building Manager. Schneider, a former English major, also holds a master's degree in English, and taught English and creative writing as an adjunct instructor for a number of years alongside her previous career in retail. With that background, she too fits right in at Hendrix-Murphy as she supplies administrative support to the Foundation, including managing payables and scheduling events in the Murphy House.
Hope Coulter, a member of the English Department, continues with Hendrix-Murphy as Director, and Henryetta Vanaman continues as Program Manager.
"Sarah is especially looking forward to working more closely with students as they develop their proposals," Coulter said. "And it's great that Teri is bringing her love of literature and language back to the Hendrix campus to step into Sarah's former position."
For the Murphy Scholars Program, first-year Hendrix students from across all academic disciplines apply to become Murphy Scholars through a competitive process — the program accepts just 30 students per year. A shared love of literature and language connects Murphy Scholars majoring in more than 24 fields of study in the humanities, social sciences, and natural sciences. During their time in the program, Murphy Scholars avail themselves of dedicated funds and mentorship by specially hired two-year Fellows to pursue their interests in literature and language. They also take Oxford-style tutorial courses in literature and language, meeting weekly with their professor and one or two other students to discuss readings and exchange essays. The program makes Hendrix one of only a handful of institutions in the U.S. offering traditional Oxford-style tutorials. The expanded Hendrix-Murphy Foundation staff will enable this program to continue to flourish.
About the Hendrix-Murphy Foundation
Hendrix-Murphy Programs enrich the study of literature and language for Hendrix College as a whole, as well as for students with intensive interest in those areas of study. The late Mr. Charles H. Murphy, Jr., former Chair of the Board of Murphy Oil Corporation and former member of the Hendrix Board of Trustees, established the Foundation in 1978 in memory of his mother, Mrs. Bertie Wilson Murphy. A 1905 graduate of Galloway Women's College — which later became part of Hendrix College — Mrs. Murphy possessed a lifelong love of literature and language, to which these programs are exclusively dedicated. To learn more, visit www.hendrix.edu/hendrixmurphy.