Hendrix College junior Rebecca Parham '21 of Alma, Arkansas, has received a Goldwater Scholarship from The Barry Goldwater Scholarship and Excellence in Education Foundation. Parham, a chemistry major, is the 34th Hendrix student to receive this honor in the 32-year history of the scholarship competition.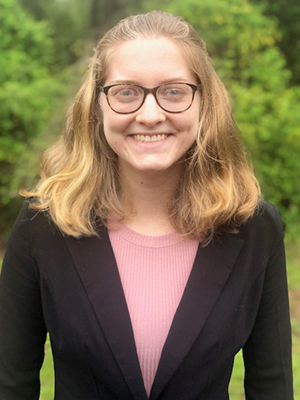 Parham's research is in atmospheric chemistry. She is studying physical and chemical characterization of atmospheric aerosols and how they affect the warming and cooling of the atmosphere. Parham's mentor for her Goldwater research proposal was chemistry professor Dr. Courtney Hatch '00.
"Having been chosen as one of the nearly 400 Goldwater Scholars from across the nation is a unique honor bestowed to the most promising young scientists and future change makers," Hatch said. "I'm extremely proud of Rebecca, and I can't wait to see what amazing advances she will make as she continues her research career in the field of atmospheric chemistry." 
In addition to Parham's academic pursuits, she is active on campus as the co-founder and co-president of the Japanese Language and Culture Club, and as a three-year member of the Hendrix chapter of the American Chemical Society.
Jacelyn Hall '22, Karen Morris '21, and Tristian Wiles '21 were also nominated by the College. Their research mentors were Drs. Julie Gunderson '06, Laura MacDonald '09, and Andrew Schurko, respectively. Like Parham, all of the other Goldwater nominees from Hendrix plan to earn a Ph.D.
Biology professor Dr. Jenn Dearolf, the current Goldwater Campus Representative, ushered Hendrix's Goldwater nominees through the process.
"This year, over 450 institutions submitted their best students to be considered for the Goldwater Scholarship, and the Foundation selected 30% of these students to be awarded the scholarship," Dearolf said. "Thus, we are ecstatic that Rebecca Parham was chosen to be among this group. She truly deserves this honor. And, the submission of four students for consideration for the Goldwater Scholarship and Rebecca's selection as a Scholar would not have been possible without the high quality of all of our students at Hendrix, as well as the excellent mentors that helped shepherd our nominees through the application process."
About the Goldwater Scholarship
The Barry Goldwater Scholarship and Excellence in Education Program was established by Congress in 1986 to honor Senator Barry Goldwater and to provide a continuing source of highly qualified scientists, mathematicians, and engineers by awarding scholarships to college students who intend to pursue research careers in these fields. It is widely considered the most prestigious award bestowed on undergraduates studying in the natural sciences.
About Hendrix College
A private liberal arts college in Conway, Arkansas, Hendrix College consistently earns recognition as one of the country's leading liberal arts institutions, and is featured in Colleges That Change Lives: 40 Schools That Will Change the Way You Think About Colleges. Its academic quality and rigor, innovation, and value have established Hendrix as a fixture in numerous college guides, lists, and rankings. Founded in 1876, Hendrix has been affiliated with the United Methodist Church since 1884. To learn more, visit www.hendrix.edu.